Happy Birthday HEULIEZ BUS
Involved in the story of bus and coaches since the beginning of the 20th century, in fact the first Heuliez coach was built in 1932, the Henry Heuliez Group set up the HEULIEZ BUS Company in RORTHAIS on June 11th 1980. The Company celebrates 30 years, having a heritage and a long experience of 78 years.
A story of 30 years, shared by the men and the women who have contributed thanks to their daily work to make a dynamic company.
During 30 years, HEULIEZ BUS has known a continuous development thanks to cooperation agreements with the main European bus and coach builders. Today, HEULIEZ BUS is a company of the IVECO Group, being a manufacturer of urban buses and systems of transport. HEULIEZ BUS is known in France as an important leader in the field of urban transport.
.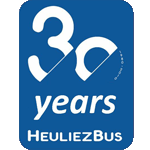 On a site certified ISO 9001 and ISO 14001, are merged all the departments of the company: design, R&D, production, accounts, purchasing, human resources, sales, after-sales, training, spare parts. HEULIEZ BUS, whose industrial facility is located in RORTHAIS, (Deux-Sèvres - France) has a total of 23 hectares at its disposal, a workforce of 500 employees and can produce 450 vehicles per year.
In 2009, the company has realized a turnover of 141.5 M€ and represented about 20.7 % of part of the French market of buses.
Since 1980, more than 13 000 vehicles (bus, coaches and systems of transport) have been produced in RORTHAIS.
Willing to improve the attractiveness of the public transport, the HEULIEZ BUS Company is pursuing its developments in internal design, aesthetics outside, comfort, accessibility, safety and environment protection.
On the occasion of its 30th Birthday and of the European Mobility Exhibition, in Paris, the HEULIEZ BUS Company has shown for the first time an articulated vehicle ACCESS'BUS GX 427 in HYBRID version. This vehicle has been developed in cooperation with Irisbus Iveco and BAE Systems for the supply of components for the power chain. It is a serial hybrid articulated bus, equipped with a "stop & start" system which enables to reduce fuel consumption and noise emission at bus stops.
Rorthais, June 11th 2010